"I'm in a New York state of mind."
— Billy Joel
So rather than try to rephrase things and fuck it up — since I'd likely get a nasty call from Sean Sweeney, here's his organizations take on current politics. We supported Marte and he fortunately won. We have high hopes. A few others that we supported won as well but the jury is out on that. We got behind Alvin Bragg and Adams but haven't had any feedback on them yet. I like Adams' energy though. I'm not holding my breath for a call from Bragg's office unless they're gunning for me like Thomas Spota did — which didn't work out to well for him. I'm sure a few of you are disappointed about the decision on Trump but, hey who knows, right? I haven't heard from Melinda Katz for a few years either (although I admit trying to reach her), but no soap since I interviewed her several years ago. But, that was before I was hit with 107 felony counts by a not yet imprisoned D.A. looking for cash.
However, I so think it's time to start giving others a shot at downtown politics — like, for example, the Assembly. Ryder Kessler is running. Meanwhile, here's what the SoHo Alliance has to tell us about the community.
A Volunteer Community Organization
Dear Don,
He swept SoHo in last year's election and he's still sweeping it.
City Councilmember Christopher Marte announced on Wednesday that he has reallocated funding to hire ACE workers to sweep our streets from Mercer to Wooster, Houston to Canal, three days week. ACE workers will also be maintaining the corner trash bins that currently often overflow with trash.
Dressed in their red work clothes, workers from ACE, the Agency of Community Empowerment Programs for the Homeless, were a familiar sight on SoHo streets for years.
However, the program suffered from perennial fundraising shortfalls, causing it to cease its "free" street cleaning operation in 2016. (ACE is still retained by the SoHo Broadway Initiative to clean Broadway and the abutting side streets.)
In response to ACE's departure, in 2017 Clean-Up SoHo, a volunteer group with which the SoHo Alliance was involved, raised sufficient funds to purchase some eighty corner trash bins and hire workers for a year to bag and empty the trash on a daily basis. However, fundraising and organizing the cleaning services is basically a full-time job, beyond the scope of community volunteers.
So for the past several years, due in no small part to the budget cuts to the Department of Sanitation, SoHo streets have become increasingly littered.
In response, earlier this year there was an effort to organize a BID, a Business Improvement District, to raise funds to clean the streets by increasing property taxes. With property taxes rising more than 10% annually here, that is the last thing we need.
Not to mention that BIDs push for changes that primarily benefit commercial property owners and large multinational retailers — not local small businesses or residents. The role the SoHo Broadway BID played in the recent upzoning of SoHo/NoHo/Chinatown testifies to that. Who wants a BID to control the rest of SoHo in perpetuity?
Thus Councilmember Marte's grant is a double blessing. We get cleaner streets and retain local control.
Marte says this funding is not a one-off, but will continue as long as he is in office. It is in tandem with a similar program he has arranged to clean Delancey Street on the Lower East Side.
Marte announced the news at a press conference last Wednesday at the corner of Greene and Prince Streets joined by ACE workers and local community activists.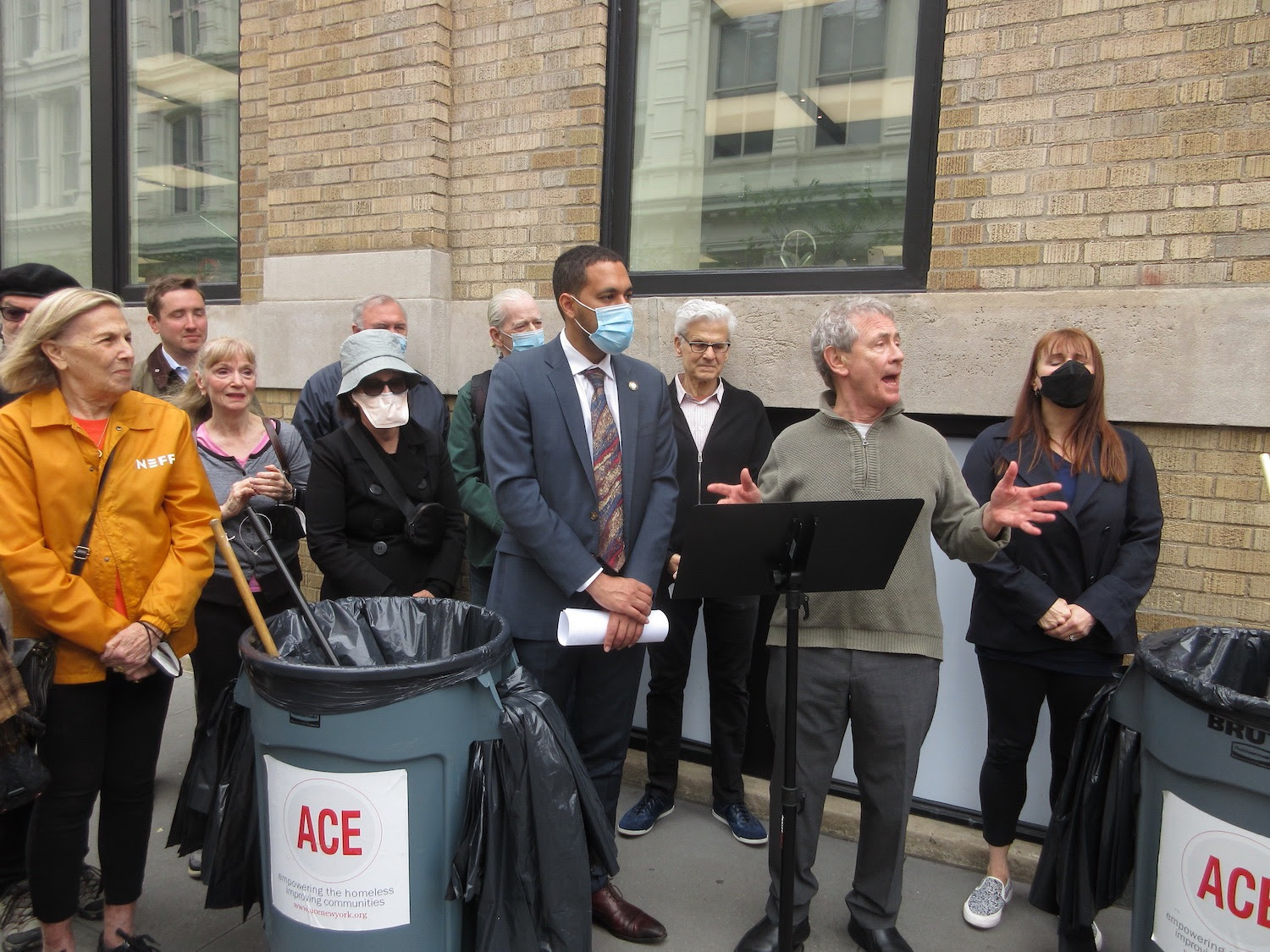 Photos courtesy of thevillagesun.com
Our neighborhood provides the city so much revenue in property and sales tax receipts, yet has been the forgotten stepchild of so many past administrations, getting nothing in return but filthy streets and crowded sidewalks. It is so gratifying to have an elected official who helps rectify that unfair situation. Thank you, Chris.
PLEASE FORWARD THIS GOOD NEWS TO FRIENDS AND NEIGHBORS.
Sincerely,
Sean Sweeney
Director
SoHo Alliance
PO Box 429
New York, NY 10012
212-353-8466
Keep your eyes open. I've got a few books coming out this summer. The world of Justice and the American Way was interesting and in these delightful stories I describe the joy of living in a New York State prison. In Up & Away I give a first hand picture of how corrupt politicians can destroy your life — while in The Bonfires of the Hamptons showcasing Trump SoHo, Dominatrixes, Hamptons real estate and a little prison thrown in — those of you who are still waiting for that knock on the door can pour yourselves another drink. And don't think it can't happen to you.